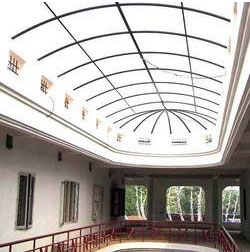 In the history of modern roofing systems & wall cladding systems in India, there is one name that is surely emerging as one of the pillars of design excellence in architectural products i.e "Ray Roofing Pvt. Ltd.".

It has since had a meteorically growth and presently enjoys a strength in excess of 200 team members with offices in, Pune, It provides the very best solutions for business, commercial and hospitality industries using the latest technology and the best infrastructure.
Director's Message
In an endeavor to provide excellent quality to our customers, we, as a company have striven to provide the very best in terms of technology and infrastructure. Some of the best brands in the world namely TATA BLUESCOPE, JINDAL INDUSTRIES, ISPAT, ESSAR, BHUSAN STEEL, have tied with us for serving top-notch clients like MNCs, Indian Corporate, Industrial Giants etc.